---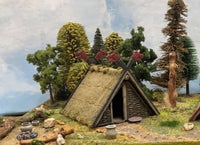 Sale
As this item is in our offsite warehouse we aim to ship within 2-5 days
A very handy small building for Saga or Lion Rampant or any other Dark Ages to Medieval game.

Makes one 1/56th scale hard plastic made for 28mm gaming. There are 3 frames in each pack, Two frames contains the roof parts and Accessories and the other the Front and Back walls sections.

The building measures 92mm x 77mm x 80mm

Hard plastic, supplied unpainted and unassembled.