---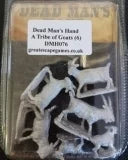 Sale
As this item is in our offsite warehouse we aim to ship within 2 to 5 days.
Probably should be a B*st*rd of Goats. Natures defoliants, don't let the bottomless stomachs near your garden. Four big ones and a couple of kids.

28mm sized models made of metal and supplied unpainted.