---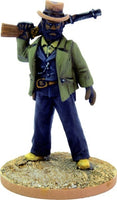 The stories concerning Fergus' past are many and varied. Some say he's a half breed, a mix of escaped slave and apache indian. The only thing anybody is sure of is that he's a mean tough son of a gun and a crack shot with his repeater. He works for the railroad, keeping the peace among the people who travel with the iron horse as it cuts its way across from east to west.
Includes own unique special play card that replaces a card in the player's deck. Rules contained within The Legend of Dead Man's Hand source book.
One metal miniature. Model supplied unpainted.