---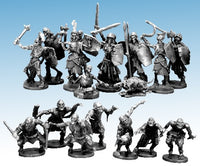 Sale
As this item is in our offsite warehouse we aim to ship within 2 to 5 days
We've teamed up with Mantic Games to bring you a great collection of Undead creatures, the kind of horrors you find creeping around ruined frozen cities.

This box set of plastic figures gets you:
10 Skeletons
4 Ghouls
3 Zombies.

Perfect for your random encounters.

Figures are all taken from Mantics Kings of War fantasy range. Made of hard plastic, they are supplied unpainted and require assembly.