---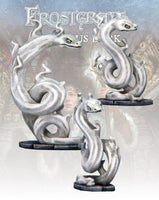 Sale
As this item is in our offsite warehouse we aim to ship within 2 to 5 days
In the annals of ancient Felstad there are occasional mentions of vapour snakes. These strange, smoky entities sometimes formed as the result of the mystical refinement process of the alchemical fuel used for much of the city's lighting and heating. Why these creatures look so much like actual snakes is anyone's guess. While the cataclysm brought an end to this alchemical refinement, damage to the various processing workshops may still sometimes causes the spontaneous generation of a vapour snake.
Pack contains three models. One large Vapour Snake and two small Vapour Snakes.
28mm sized metal figures. Supplied unpainted.