---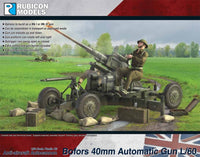 Sale
As this item is in our offsite warehouse we aim to ship within 2 to 5 days
The Bofors 40mm Automatic Gun L/60 (often referred to simply as the "Bofors 40mm gun" and the "Bofors gun") is an anti-aircraft autocannon, designed in the 1930s by the Swedish arms manufacturer AB Bofors. The gun was designed as an intermediate anti-aircraft gun, filling the gap between fast firing close-range small calibre anti-aircraft guns and slower firing long-range high calibre anti-aircraft guns, a role which previously was filled by older outdated guns. The Bofors 40mm L/60 was for its time perfectly suited for this role and outperformed competing designs in the years leading up to World War II in both effectiveness and reliability.

Product Highlights:
- Options to build as a Mk 1 or Mk III gun
- Can be assembled in transport or deployed mode
- Gun can elevate up and down
- Gun platform can rotate left and right
- Outrigger can swing open or closed
- Extra ammo and gun barrel included
- 4 British gun crew included

Model supplied unpainted, assembly is required.