---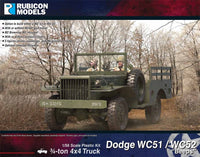 Sale
As this item is in our offsite warehouse we aim to ship within 2 to 5 days
The Dodge WC series, sometimes nicknamed "Beeps", was a range of light military trucks produced by Dodge during World War II. The series included weapon carriers, telephone installation trucks, ambulances, reconnaissance vehicles, mobile workshops and command cars.
WC-51 Truck, Cargo, 3/4 ton, 4x4 w/o Winch Dodge (G502) Weapons Carrier. 123,541 were built. The open cab pickup could be fitted with an optional M24A1 machine gun mount, which bolted across the front of the bed. The mount could carry the M1918 Browning Automatic Rifle, the M1919 Browning machine gun, or the M2 Browning machine gun.
WC-52 Truck, Cargo, 3/4 ton, 4x4 w/Winch Dodge (G502) Weapons Carriers was identical to the WC-51, but fitted with a Braden MU 2 7,500lb / 3,402kg capacity winch at the front bumper. 59,114 built.

Kit Highlights:
- Option to build either a WC-51 or WC-52
- With or without M24A1 gun mount
- M2 Browning MG included
- With or without tarpaulin cover
- 3 figures (driver, passenger, and MG gunner) included
- Optional stowage included
Number of Parts: 68 pieces / 2 sprues + 1 multi-slide mould part

Plastic kit, supplied unassembled and unpainted. We recommend using an ABS plastic glue such as Plastic Magic for assembly.