---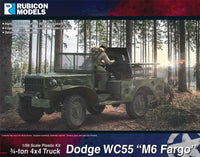 Sale
As this item is in our offsite warehouse we aim to ship within 2 to 5 days
The WC55 Truck, 3/4 ton, 4x4 Gun Motor Carriage Dodge (G502) was a modified WC52 designed to carry an M3A1 37mm anti-tank gun and shield mounted on its cargo bed; the WC55 and gun combination was designated M6 Fargo Gun Motor Carriage (GMC) with 37mm Anti-tank Gun (G121) with a payload of 80 round of 37mm ammunitions. 5,380 built, most of them later dismantled and returned to service as WC52 cargo trucks.
Product Highlights:
- Highly detailed 37mm Gun M3 with gun shield
- 4 figures (driver, officer, gunner and loader) included
- Optional stowage included
Number of Parts: 73 pieces / 2 sprues + 1 multi-slide mould part

Plastic kit, supplied unassembled and unpainted. We recommend using an ABS plastic glue such as Plastic Magic for assembly.