---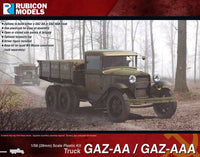 Sale
As this item is in our offsite warehouse we aim to ship within 2 to 5 days
This kit can be used to build either the GAZ-AA twin axle truck ( a Russian made version of the Ford-AA) or the later triple axle GAZ-AAA.
A robust and reliable vehicle, the GAZ had many uses from a simple transport, to ambulance, mobile workshop and a platform for anti-aircraft guns. It was also the base upon the BA-6 and BA-10 Armoured Cars were constructed.
This easy to build kit includes a driver and the optional tarp top.
Plastic kit, supplied unassembled and unpainted.