---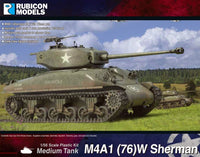 Sale
As this item is in our offsite warehouse we aim to ship within 2 to 5 days
The M4A1 Sherman is the first production version of the M4 Sherman medium tank. The M4A1(76)W first saw combat with US forces after the Normandy landings. The M4A1 Sherman was equipped with a Continental R-975 air-cooled radial engine and a one-piece cast hull.
Product Highlights:
- M4A1 (Sherman IIA) with 76mm gun
- Includes both early & late production T23 turret
- Open or closed command & crew hatches
- Tank crew figures included

Number of Parts: 140 pieces / 6 sprues

Plastic kit, supplied unassembled and unpainted.